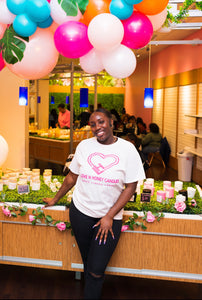 Sip, Pour & More
Sip, Pour & More!! 

Join us for an afternoon of charcuterie board making, wine tasting, and perfume creation!!
When: Saturday August 6th 2022
Location: Love N Honey Candles
Plymouth Meeting Mall (Inside, lower level)
Plymouth Meeting, PA 19462
Come out and learn how to make  your own aesthetically pleasing charcuterie board with local sensation boards galore. Pair artisan cheeses, cured meats, fruit and accompaniments to create a feast for both your eyes and mouth. 

Indulge in a global wine tasting led by a seasoned sommelier. Wine pairings tailored to complement the items you will be creating your personal charcuterie board with.

Get your creative juices flowing by creating your own perfume. We offer a wide variety of fragrance options for you to blend and mix in order to  formulate  your signature scent!

Revel in a delicious lite menu prepared by a local chef!

Play games, Win Prizes, and Vibe to the music!

Admission Price
: $115 per guest 
Book today as seating is limited!
 
LATE POLICY
While we respect that things happen, we also have to respect the time of our guests. If you are more than 30 minutes late to an event, you will forfeit your ability to make a product. It takes time to properly formulate our products, and tardiness beyond 30 minutes will not allow for this. We apologize for any inconvenience this may cause. 
CANCELATIONS 
Ticket purchases cancelled 48 hours or more prior to your scheduled event will be refundable via store credit. Ticket purchases cancelled within 48 hours of your scheduled event will not be refundable. 

FINDING OUR LOCATION
We are located inside of the Plymouth Meeting Mall on the lower level. It is best to park behind the mall at the Lego Land and enter and via the entrance at Lego Land. You will know it is the correct entrance as you will see a giant giraffe. Once you walk past the food court, make a left and walk down. We will be located on your right. We are directly across from Claire's and T-Mobile.
---